Product Detail
2018 Fluffy Billows Cabernet Magnum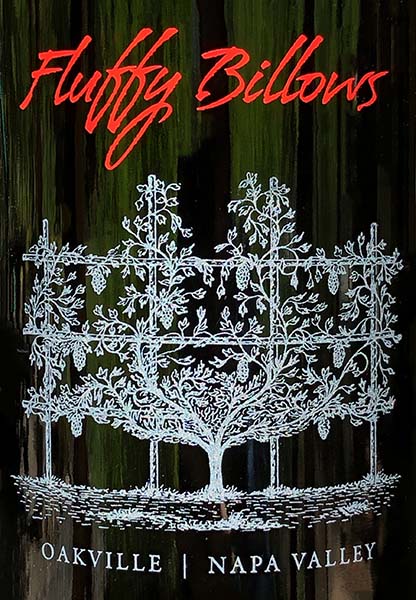 2018 Fluffy Billows Cabernet Magnum
Tasting Notes
A rich, flavorful palate of red-black fruit is quintessential Oakville in this vintage. Black currant, spicy red cassis, and blackberries mingle with subtly sweet, vanilla flavors, folded into a framework of long, fine fruit and wood tannin. With aeration, the wine shows secondary characteristics of cedar, cooking spice, and tobacco through its long finish. This balanced and very polished Cabernet is built for immediate enjoyment but should also reward the patient collector a decade down the road.
Vineyard Notes
2018 came in like a lion and went out like a lamb. The vines awoke two weeks late due to a cool spring but had ample crop, which had to be thinned. Cool weather at the end of September brought an early rain which delayed ripening another week and vintners braced for the worst. Next thing we knew the skies cleared, and we enjoyed a slow harvest with beautiful (and freshly showered) fruit.
Production Notes
The Cabernet fruit was hand-picked into macro bins, then sorted and de-stemmed and crushed into stainless steel tanks. Cold soaking was carried out over 24 hours, and the must was inoculated and pumped over one to three times per day, then pressed before finishing primary fermentation. Once dry, the wine was racked to barrel and inoculated for malolactic fermentation. It was racked again at the conclusion of secondary fermentation and twice more before bottling. Though it was filtered, owing to its time in barrel, fining was not necessary.
Pairings
Of course, a rib eye streak or hardy mushroom risotto could do, but something about the complexity of this vintage has me curious about a soup and sandwich pairing: thinking Banh mi and Duck dumpling soup. Or, come to think of it, a French Dip with a piping hot Au Jus.
Vintage
2018
Wine Style
Red Wine
Varietal
Cabernet Sauvignon
Varietal Composition

93%

Cabernet Sauvignon

5%

Merlot

2%

Cab Franc

Appellation
Oakville
Aging
24 months
Barrel Aging

24 Months

60%

New French Oak

40%

Neutral

Alcohol %
13.6
Size
1.5 L